Services
Managed IT Services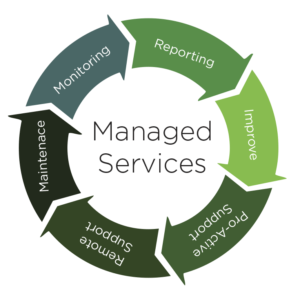 Computer systems form an integral part of most businesses these days, which is why managed IT services are becoming an increasingly popular solution for managing these systems among businesses both large and small. Managed IT support is effectively outsourcing your IT department to an IT services provider such as ScottNET with expertise in computers, networks and all your IT needs.
What are the benefits of outsourcing your IT support:
Reduced overheads. Managed IT services are a cost-effective method for managing your business' IT requirements, as you do not need to hire IT staff in house. Having an IT department in house can be costly especially if you do not require the services of IT experts on a daily basis. By outsourcing your IT department, you are able to only pay for IT support when you need it and as you need it.
Increased efficiency. Outsourcing IT support also allow you increase business productivity and efficiency as you are able to focus on what you do best, rather than having to solve complex IT problems.
Scalability. You have a team of IT experts – not just one – on hand, at your demand to help solve IT problems as they arise, no matter how big or small.
Customised Plans. You can customize your managed IT services plan to suit your business needs and budgets.
Accountability. Your IT services provider is accountable for the functionality and performance of their services
Telephony & VOIP
ScottNET in conjunction with BitCo, a licensed telecommunications operator, are able providing innovative communications solutions to our clients in a wide range of industries. We make communication really work for you by reducing your cost while increasing reliability and uptime. By routing your outgoing calls via BitCo Voice, their carrier-grade Voice over Internet Protocol network, you can save up to 40% on your outgoing calls.
In conjunction with VoIP ScottNET offer PBX systems with the option of an on-premise PBX or a VPBX (Virtual PBX) Whatever your requirements ScottNET will have the solution to meet your needs
Connectivity and Hosting
ScottNET also offer the following options for connectivity for the home user right up to large businesses:
ADSL services – This technology allows traditional copper telephone lines to provide faster data transmission. It can be used to transmit voice as well.
Fibre Metro Ethernet – We use fibre to offer point-to-point national connectivity. This service can complement or replace existing infrastructure.
Virtual Private Network – we can use any of the above technologies to create a VPN for a client.
Cloud Based Computing – Microsoft Office 365
Office 365 is Microsoft's Cloud subscription-based service, which offers access to various services and software built around the Microsoft Office platform.
Office 365 has the following features:
Office Professional Plus
Exchange Online
Sharepoint Online
Lync Online
The Benefits of Office 365 are:
Best Productivity Experience – Work together smarter
Access Anywhere – With Office 365 you can access your emails from any device with full synchronisation between the device
Works with What you know – Work with familiar tools such as Outlook
Robust Security and Reliability – Microsoft offer a 99.9% guaranteed uptime.
Pay on demand – The subscription is month to month per user.
Computer Networking, Repairs and Maintenance
Installation of CAT5&6 network cable (Entire LAN Infrastructure Installations & Requirements)
Fibre installation and termination.
Hardware repairs, upgrades and services
Software installation and support
Remote and telephonic support
Hardware & Software
ScottNET offer sales and support on all IT & Network related hardware and software solutions including:
Desktops
Laptops
Monitors
Printers
Tablets
Peripherals & Accessories
Televisions
Networking Equipment
PC Components
Servers
Software
Telephony
UTM – Unified Threat Management (Next-Gen Firewall & End-Point Security)